The NECA's Global Certification Limited (NGCL) has been accredited as the first indigenous certification body in Nigeria to provide certification and training services for companies locally and internationally by the Egyptian Accreditation Council (EGAC). This is in line with the EU funded National Quality Infrastructure Project (NQIP) objectives with technical support from the United Nations Industrial Development Organisation (UNIDO), aimed to support the development of missing Standards, quality control bodies and to encourage improvement of the quality of products and services exchanged in the Nigerian Markets
The Director-General, Designate, Mr. Timothy Olawale, said that with the establishment of NGCL and its accreditation as a certification body, NECA assured Nigeria of better access to certification of management systems, standardization, enhanced business competitiveness and removal of technical barriers to global trade.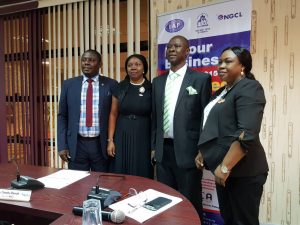 According to him, the accredidation came at a time when the focus of the government is on diversification from the oil sector and the promotion of exports from other sectors. He said:This major milestone will enhance business competitiveness, imapct the quality infrastructure landscape in Nigeria and break barriers to global trade, as standardization of management systems and processes builds global customer confidence that producsts and services are safe and reliable
NGCL is poised to promote quality, remove technical barriers to trade and advance economic growth through Certification in accordance with ISO 9001: 2015 and Training various courses. Mr. Olawale said that, the implementation of ISO Standards in business improves efficiency and effectiveness of processes as well as adherence to regulatory and statutory requirements.
Mr. Rotimi Olaoluwa who represented Dr. Shaukat Hussain, UNIDO said having a certification body in Nigeria is a huge achievemet, stating that a robust ISO system, the scheme would work for low scale businesses and Multinational.
Mrs Celine Oni, the CEO of NGCL, said the certificate process has kicked off, with the support from accreditation bodies, lead auditors technical experts on quality and certification, Nigeria can now certify businesses within and outside the country. She added: "We are in full scheme and expect to keep working with more companies in Nigeria. We will continue to work to cover more grounds until we make our businesses very competitive and acceptable international."
The ignorance or lack of adequate working knowledge of the Labour, Employment and Social Laws has financially compromised many organizations, leading to colossal loss of revenue paid as damages and compensation due to breach of the provisions of the Labour Laws. This lack of requisite skills to tackle contemporary issues in human resource management and labour relations can constitute a constraint to achieving competitive advantage in today's business world. The rapidly changing provisions of the Law have made it imperative for Human Resources Practitioners to be abreast of new developments.